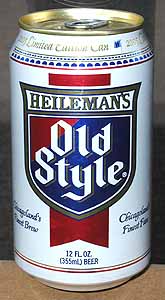 Stop lights, your job, and your favorite TV shows may change, but your beer and your family are forever. The Conrad Reunion (otherwise known as Cheese and Crackers 2007) comes but once a year, and the chance to have a cold one with my Uncle Jack and cousin Rick at the Trivial Pursuit game is the penultimate. Nothing gets in the way.
Not even the training. The family force is unstoppable. We arrived at my Aunt Judy's new condo in the Southwest Milwaukee 'burbs on Friday night. It seemed serendipitous at first: awaiting Rick and I were giant plates of linguine, homemade-homegrown pasta sauce, crusty loaves of the fresh baked bread and bowls of homemade-homegrown pesto to smear on it. Friendly faces to greet us, wine glasses to tempt us, and the ice cold Old Style sang my name from inside the fridge.
It was almost useless from the start to resist.
I was planning on being up for a training ride at 6:15 to make one of either two training rides in Milwaukee the next morning. There was the Transition Cycles ride out of Pewaukee, but I knew I had to bike 13 miles one of the city's busiest state highways to get there, so I was already rationalizing not making that on my ride up with my parents, just in from Alaska, that afternoon. I had also made a call to Rainbow Jersey Cycles earlier that day and heard about a ride that left from Atwater Park, just north of the city along the lake, possibly at 9am(ish).
"You have to get up at 6am to do what?"
We, us cyclists who hang out with mostly non-cyclists, have heard this reaction many times. And if you are musician - or engage in any other extra curricular that requires late night and weekend action - you know the marginalized feeling of explaining why you're about to head to bed on a Friday night. Riding 70 miles on a Saturday morning to the average person definitely does not seem like something which to sacrifice a Friday night out with friends.
But we know differently. Hitting your stride at 8:30, 20 miles in, pulling 12 teammates up a long false flat, your bike computer in for repairs, and the pain your legs and no one attacking past is the only feedback you have. Nothing feels better as you move off and they come past, each thanking you for taking them up.
Don't get me wrong, there is a balance. My friends mean a lot to me, and I will make room. Those of us who struggle to find this balance got into this sport pretty late in life, hence the mostly non-cycling friends. You certainly don't want to come home from a team ride some fine Saturday afternoon and find out they've all given up on you. But we still fight the fight so that we can reach for everything we want. Because there's nothing worse that regret. No matter how much it sucks to get up at 6am to ride, or how nervous you get at the starting line, what keeps you going is the knowledge of how good you are going to feel at the end. Or, pulling your teammates and friends up a long hill.
But family brings a different weight to bear. You just can't get up from a conversation with your mother whom you see only once a year to go leave for bed. And sitting on a back porch, reminiscing about years and reunions past as the sun sets, another beer and handful of the cheese and crackers seem to be just the perfect thing in all the world. You only see them once a year, and cycling is such a cumulative sport. The family wins. You will ride the day after. I won't see many of these family members again for months.
So I woke up at 6:15 to turn off the alarm, and finally got up around 7:30. I filled my bottles with water and my jersey pockets with gear, and rolled out around 8:15. I'd
mapmyride
but when I tried earlier, the satellite pics were out of date and much of the second part was out of date. I headed east to the lake on Center, and turned north once I reach Humboldt Boulevard. After a mile or so I found Milwaukee's great Oak Leaf trail and rode that to Santa Monica, then west on Silver Spring, to Green Bay Road.
I got in several tempo intervals heading through Milwaukee's north side and the north 'burbs. Traffic was very light, and I at one point I past a pack of older cyclists geared up and heading south. Heart still pounding, I shouted across the highway, "Where you headed?"
"Alterra Coffee!" was the reply.
Then I decided they looked to be moving slower, and they had several (married?) couples off the back, and as much as the temptation for conversation was, I opted to continue drilling it north. That is, until I reached a merge with Highway 100 and the traffic load got considerably sketchier. There I had to ease my way past a set of entrance/exit ramps so I turned around at the next mall parking lot and headed back south along the same route.
I actually passed Silver Spring this time and caught another section of the Oak Leaf trail as well as the group of coffee riders I passed earlier. I rode behind them, but soon stopped to check my map. I got my bearings and remembered a coffee shop at the corner of Humboldt and Center and made that my
immediate goal. I pulled up to
Fuel Cafe
and gave the counter girl a look that said, "OK if I bring this in here?" I got the nod and came in for a couple espressos, a cookie, and the remaining Clif Bar in my pocket.
It was as hipster-friendly as any Humboldt Park or Pilsen coffee shop here in Chicago. Even more so because smoking was allowed. It was wooden, worn, and weary looking, yet clean, save for the tobacco haze. 20 minutes later I pulled up and rolled out, heading south and then east to the Lake on North Avenue, picking up the bike trail again at Oakland. I went past the lakefront grounds, then in the midst of Irishfest, down around the harbor entrance, and through the third ward, in search of the
Hank Aaron State Trail
. The wind was blowing out of the Southeast, and it was a grey slate sky that matched the water.
I eventually found my coffee seeking friends at Alterra Coffee, Milwaukee's answer to
Intelligentsia
. I got some directions and another double espresso, and took off. A left, two rights, and another left, and I was heading west through the Menominee River Valley, winding my way to Miller Park and beyond. I finished my on the Menominee River Parkway, back to Burleigh Road and back to Rick's house just a bit after 11am. And there was the feeling. Of not one ounce of regret, and so glad, solo or not, that I rode. Especially noting the rain just beginning to fall and 2200 calories my computer said I burned during.
Two hours later we headed off to Uncle Bob's and the official reunion and platefuls of bratwurst and a cooler full of Old Style. The reunion went on, and everyone asked me how the ride was. I was much happier to be able to answer that question than to talk about my job for the 5th time that night. Trapped inside as the rain came down made it a little harder to escape the idle chitchat and the awkward conversations, but for the most part it was wonderful to see everyone, and satisfied weariness settled in like the sunset, aging with the evening.
A fun moment came when my mom's cousin Kathy put me on the phone after I responded to a conversation about her son's reading assignment that
The Grapes of Wrath
was one of my favorite books of all time.
"It's not about his writing ability, and get over the crappy metaphors," I told him. "You are reading the words of a person who experienced the Westward Migration and the Great Depression first hand. A lot of people get the same enjoyment out of Hemingway as well. They don't like his terse, perfunctory style, but his prose is history alive of the American expatriates of the early 20th Century."
That sums up my family reunions, whether it's a simple weekend with Rick and Uncle Bob, or the entire living tree shows up to fill an entire backyard, or kitchen, weather prohibiting. Lively conversation, huge laughs, awkward moments and lost tempers alike. It supersedes everything. And that's how the weekend worked out so perfectly. That a great ride was able to fit so neatly in between, it all seemed meant to be.