OK, then at least now or next year.
It's PTO for the rest of the week. Spending the night near Whitnall Park for tomorrow's road race there.
I love this course. Smooth and wide, it's only enclosed road race I've ever done, although it's actually more of a circuit race, with the races doing at least 13 laps on the 2.7 mile course. Its' got 3 nice rollers, including the final sharp turn and uphill sprint.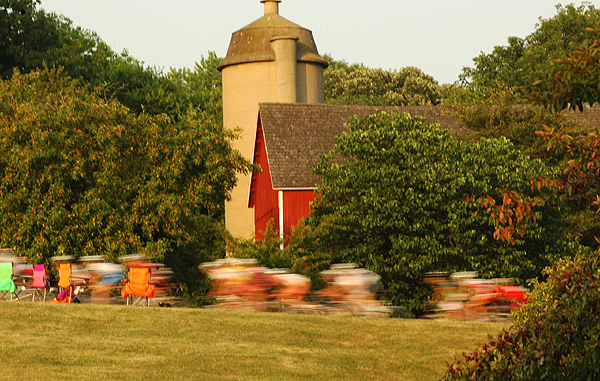 (photo by
Luke Seemann
)
Man, I need this race. We'll be short a few registered teammates due to crashes and work conflicts, but there will at least two or three guys with whom I work very well racing with me. It's going to be tough, with the younger crowd, and probably faster than last year's master's category I raced, and got 15th place. But that's good, and hopefully we can contribute just as much to keeping it that way, as well. All the better to move up and get the best positioning for the last few laps and that final sharp turn and climb. This could be my best opportunity for a big points grab during all of Superweek.
I'd told myself I wanted to average 2 points a race, over my 7 races, going in to Superweek. I had just 3 points, from the 7th place in the Tour de West Lafayette Road Race. Blue Island was a wash, Olympia Fields was fruitful (and a huge missed opportunity for more), and Bensonville was just heartbreaking, but inspiring as well, showing me that I do indeed have the piss and vinegar in me to succeed in this sport. Evanston, of course, I sat out. Not wanting to aggravate my shoulder - injured at Bensonville - and jeopardize these upcoming races.
Next up, after Whitnall Park, is Kenosha, a homecoming of sorts - my parents grew up there, and was where I spent many a summer vacation visiting my grandparents and other relatives. That race is one to look out for: a half-mile course on which we're scheduled to do 50 laps. A 1/2 hour of quick-succession left-turns. Easy to get bored into carelessness. But, a good course for a break away, not unlike Monsters of the Midway.
But, I am really looking forward to the Great Downer Avenue Bike Race...the granddaddy of Superweek races. Up on the North Side of Milwaukee, near the UWM campus, this one draws huge crowds of partiers and spectators. And there's beer tents. The odds of High Life on tap are extremely likely. Also, if I feel hoity-toity, the
Lake Front Brewery
is close by, as well. And Katy will be there to enjoy it all with me, as well, cheering us on. It really makes a difference that she'll be there.
Milwaukee is a simpler place, sensible and without pretension. Yes, there's a lot of grunting, obese people wearing "Favre" jerseys, but they do know their beer and their encased meats. There's a summer long party on the lakefront, from Italianfest to PolishFest and virtually every nationality in between. The best part about these fests, to a Chicagoan, is that everything is cash - meaning, you don't have to wait in line in additional lines for those stupid tickets that they have at our festivals. And that makes the homogeneousness of all it that much more tolerable.
From the Friday Night Fish Fry at Turner Hall to the three martini night-cap at the At Random down in Bayview, Milwaukee is my place to be.
I can't think of a better way to cement this year's Superweek to memory than placing well in these three races. The field sizes will be bigger, the stakes higher. If I can average 3 points a race, it'll put me within spitting distance of my upgrade. And with at least four more big opportunities before the end of the road season, I should make it, before some huge life-events possibly happen and take over my focus for a good while...
Jump, boy! JUMP!!!